About Chris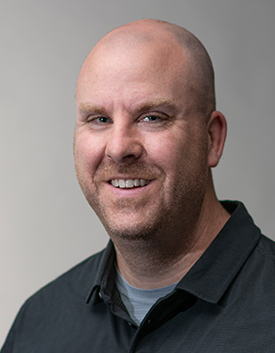 Researcher,
Educator &
Creator
Christian Rogers, Ph.D. is an Associate Professor and Program Director in Computer Graphics Technology within the Purdue School of Engineering and Technology at Indiana University-Purdue University Indianapolis (IUPUI) and a former Lecturer in Visual Communication Technology at Bowling Green State University. He teach courses in Themed Entertainment and Motion Graphics Design concentrations. He is also the Director for the Center for Student Innovation in the Institute for Engaged Learning at IUPUI. His research interests focus on the use of pervasive technology and media to educate in the public and not-for-profit sectors.
Chris has worked in various roles in marketing, strategy, live technical direction and instructional design.
Download Chris's CV
Media & Design
Video Production
Motion Design
Technical Direction
Innovation
Human-Centered Design
Brand Strategy
Placemaking
Development
Instructional Design
Leadership Development
Project Management
Research
Assessment of Experiential - SOTL

Technology-Supported Directed Reflection - SOTL

Innovation Education - SOTL

Implications of User Experiences - Industry Research
Assessment of Experiential
Experiential Learning assessment is an area Dr. Rogers has explored in multiple forms. He believe strongly in the power of authentic learning experiences and that learning while doing is a key to career success. Thus, his purpose behind the study of experiential learning is to evaluate the effectiveness of field-based activities and the efficacy of experiential learning.
Technology-Supported Directed Reflection - SOTL
Making experiential learning a cornerstone of his educational philosophy also means providing students the opportunity to reflect. Through research and studies he has found directed reflection offers opportunities for deeper learning and also the ability to advance students metacognitive skills. He has also found that there is a latency between when students experience and when they reflect, therefore tainting the reflection content. It is with this in mind that he is currently working with a team to develop EASEL (Education through Application-Supported Experiential Learning). The EASEL system pushes content to the student's mobile device before an experience is scheduled, tracks the experience time and location and provides the student prompted reflection items within minutes after the experience is no longer tracked. Along with prototype development he is also in discussions to form partnerships with nursing, occupational therapy and dentistry. The system will work in tandem with current learning management systems.
Innovation Education - SOTL
Building upon his work in experiential education and user experience design he has conducted research to understand best practices in teaching innovative practices to students. He was granted two faculty fellowships by University College to develop a specialized Summer Bridge in Innovation and Entrepreneurship. This has led to a Center for Student Innovation and multiple initiatives under the center umbrella.
Implications of User Experiences - Industry Research
With the advent of pervasive devices such as the Oculus Rift (virtual reality headset) and Leap Motion (hand detection), new environments are being created that allow for new ways of learning and training. The user experience is crucial to the creation of these environments. Dr. Rogers has worked on multiple projects in this area of research. Most notably, he have been involved with the user design of the Advanced Virtual Manufacturing Lab and user experience of training on a CNC machine in this environment. He has also worked with individuals in the Department of Kiniesology to utilize the Oculus Rift to study weight shift management and in Biomedical Engineering to study the implications of utilizing the Leap Motion to help victims of phantom limb syndrome. Most recently, Dr. Rogers has worked in self-paced learning in a makerspace environment using AR and supporting development of a new app to support the education of kids in nanotechnology.
View Grants and Publications in Chris's CV
Research Projects
Teaching
Chris has developed a range of innovative programs to support students as they explore avenues related to innovation, design thinking, motion design and themed entertainment. He has also taught multiple courses focused on branding, visual communication, media production, and themed entertainment and attraction design.
View Courses Taught in Chris's CV
Media & Design
BS in Motion Design (IUPUI)
Video Production Track (BGSU)
Motion and Video I (IUPUI)
Digital Video & Audio (IUPUI)
Interactive Multimedia Design (IUPUI)
Technical Animation & Direction (IUPUI)
Intro to Visual Communication Technology (BGSU)
Innovation
Jag Challenge Innovation Sprint
Minor in Innovation (Co-Developer)(IUPUI)
First Year Course in Innovation (IUPUI)
ViaMedia Client Media course (BGSU)
Themed Entertainment
BS in Themed Attraction Design (IUPUI)
Minor & Online Certificate in Themed Entertainment Design (IUPUI)
Intro to Themed Attraction Design (IUPUI)
Planning Themed Attraction Design (IUPUI)
Current & Future Trends in Themed Attraction (IUPUI)
View Student Work
Consulting
Edutainment
What draws kids far and wide to the world of Disney, giving them a sense of magic that is beyond words? And why cannot we elicit the same magic in our learning? Drawing the theory of design thinking, I will work with you and your team to design curriculum that can give a sense of wonder and excitement. Drawing on my years of experience as an educator and specialist in media production, I will work with you and your team to customize their learning experience regardless of discipline.
Online Learning Construction
There are those that develop a solid design for their online courses and others who develop courses that people want to fall asleep too. My advanced education focuses on educational technology and its' use in online education. What type of learning management system should you use? What type of tools can be used? How long should a lesson be? There are a lot of questions when it comes to training and development in the online space. I will work with you to design and develop engaging and creative online curriculum.
Marketing and Branding Consultation
Much of my professional career has been in the area of marketing and branding. For those that have limited resources in marketing and media production, I can help you strategize a specific campaign and connect you with the right people and media platforms to create a brand that stands out.